ALAIN KASSANDA
France / Nigeria 2023 I OV with engl. subs I 89 min

SAT 18 NOV
19:30 Uhr ARSENAL
Every Thursday, a group of students at the University of Ibadan, Nigeria's oldest institution of higher learning, organises a film club and transforms a small lecture hall into a political agora to debate power inequality, gender justice and ethnicity. Contrary to the defamation of young people as the brainless Coconut Head Generation, which is also the title of the documentary by Congolese-Nigerian director Alain Kassanda, the film provides moving insights into the students' courageous political commitment to bring about social change.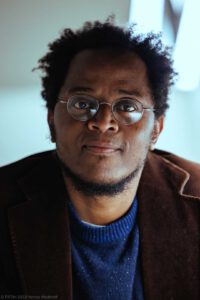 ALAIN KASSANDA was born in Kinshasa and left the Democratic Republic of Congo at the age of 11 to go to France. After studying communication, he was a programmer for an arthouse cinema in a suburb of Paris for five years before moving to Ibadan in southwestern Nigeria from 2015 to 2019. There he directed TROUBLE SLEEP. The medium-length film won the Golden Dove for Best Film at the Dok Leipzig 2020 festival and the Special Jury Mention at the Visions du réel festival. It was followed by COLETTE AND JUSTIN, a feature film that interweaves his family history and the story of the decolonisation of the Congo. The film was part of the international competition of IDFA 2022. COCONUT HEAD GENERATION is his third film.